Seismic Products and Engineering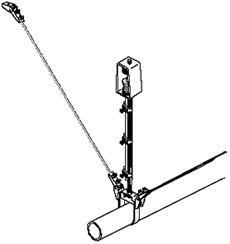 Cable braces are the most efficient means of keeping suspended equipment, electrical conduits, piping and duct work in place during earthquakes or bomb blast. There are many requirements for the best and quickest means of connection so we have developed a wide range of products in various capacities. All are California OSHPD approved or in the approval process. Mason Industries' cable products are hinged to adjust to the installation angle and avoid cable fraying.
The SCB has a hole for anchoring to equipment or structure. The SCBH attaches with a hook to save time.The SCBV clamps to steel beams. The SSB attaches to solid bracing. The SRC prevents hanger rods buckling in compression by attaching the rods to angles.The UC prevents hanger rods buckling in compression by bolting the rods within strut steel. The JAH provides a means of attachment to Bar Joists.